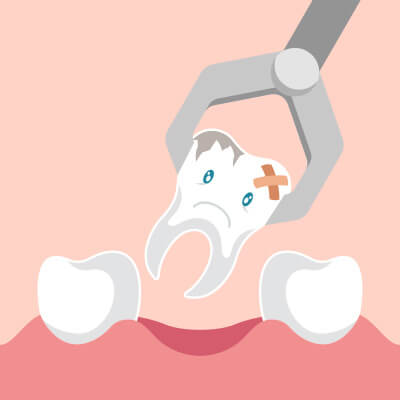 Tooth Extractions in Jimboomba
At Flagsmile Dental, our goal is to help patients keep their natural teeth for as long as possible. But in some cases, extraction is the best option for a patient's goals.
Explaining Your Options
We will consult with you and explain all the options regarding the affected tooth or teeth. We'll let you know how removing the tooth will affect adjacent teeth and what you can expect. We'll also discuss replacement possibilities as we want you to understand all of your options so you can make an informed decision about your dental care.
NEW PATIENTS

Many people have outdated mental pictures of a medieval dentist yanking a tooth out with pliers—but modern extractions are generally very comfortable and can be performed with Happy Gas, if you prefer. We want you to feel as relaxed and in control as possible, so we will tell you as much or as little as you want to know. Some patients want to know everything that's happening, while others don't want to know anything until it's over.
Before we proceed, we'll take X-rays so we know what type of extraction you'll need. Many extractions are non-surgical, and you may feel slight pressure as we remove the tooth. In this case, we would move the tooth gently to loosen the roots, and for some teeth, that motion is enough for removal. In other cases, if the roots are going in different directions, or if the tooth hiding under the gums or broken down, then sometimes we may need to divide the tooth and remove some bone and gum in a surgical extraction.
We'll let you know how the procedure went and what you can expect afterwards. Generally, if you require stitches, you will have self-dissolving ones so you won't have to come back to have stitches removed. We'll give you extra gauze and take-home instructions, and we'll also usually check in with you in a day or two to see how you're doing and answer any questions.
We will see the process through and explain what comes next, and can provide a post-op assessment of the extraction site free of charge, if you would like. Just give us a call so we can make an appointment for you!
Find Out More Today
Learn more about tooth extractions or schedule an appointment today.
CONTACT US
Tooth Extractions Jimboomba, Flagstone QLD | (07) 5546 9710